About Us
As a native Tucsonan I care deeply about our community and have been actively involved in making Tucson a better place for all of us. My parents moved to Tucson in the late 40's and they were devoted to community involvement as Tucson grew from a town of 50,000 people to over one million today. I learned from them that it is not enough simply to work hard and do your best but that a person has an obligation to share their efforts and talents for the good of all. Through out my life I have given back to this wonderful community with my involvement in many charitable, professional and civic organizations and activities.
In addition to raising my family here in Tucson I have volunteered my time and efforts to many school and church based activities as well as civic and non-profit organizations.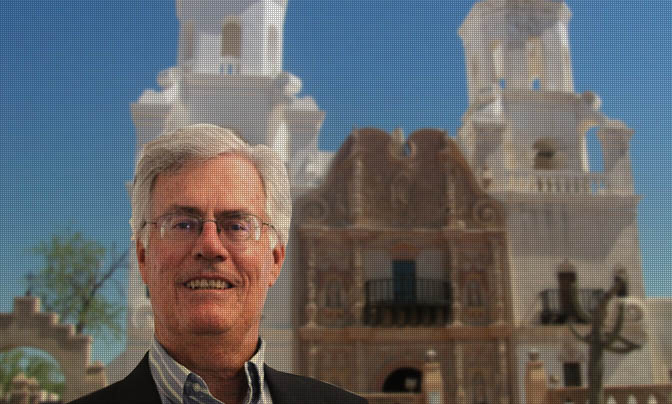 I have served as President of the Tucson Parks Foundation – helping support and improve our public parks. Having represented many individuals who have been injured in accidents has inspired me to work on many pedestrian, bicycle and transportation projects with organizations such as Living Streets Alliance, Friends of the Tucson Streetcar, Safe Routes to School, the City of Tucson and as President of the Peter Howell Neighborhood Association to make our streets safer for all of us to walk, bike, drive or use public transportation.
I have worked to enhance the legal profession through work with the State Bar of Arizona, service as President of the Arizona Trial Lawyers Association to protect access to the civil justice system for all Arizonans.
I actively support many community non-profits that better the lives of Tucsonans as well as enhance the cultural and historic treasures that make Tucson unique. I currently serve on the board of the Patronato San Xavier – a non-sectarian organization that helps conserve the priceless icon that is San Xavier Mission.
My goal is to provide compassionate personal attention and service to my clients. I am happy to provide an honest assessment of your claim and whether I can assist you.
Thank you for all your efforts in out behalf the last five years, and especially for always keeping us informed. You have our abiding gratitude and affection. P.D.

Thank you for being my friend and lawyer during my trials and tribulations. R.B.

I wanted you to know how much I appreciated your efforts on my behalf. Your diligence and perseverance in resolving my case was nothing short of remarkable. The research and pursuance of this case was, on your part was conducted in a consistently thorough and conscientious manner. I could not have asked for more! J.G.

I want to take the time to thank you so much for all you've done with the case ... now with this being all over my life will be a little brighter ahead... You are a very special person. S.R

Thank you for your advice you gave me .... Everything turned out well and we negotiated a decent settlement with the insurance company. A.R.

Words cannot express my deep appreciation to you and your staff. Your preparation was extraordinary and your summation was eloquent .... The process and the facts you gathered were part of a healing for me. You are in my opinion a brilliant attorney who pursues a case with great compassion. Your dedication to your profession and your clients is admirable. L.G.

I just wanted to let you know that I sincerely appreciate all of your hard work. Thank you for helping me through a tough time in my life. R. N.

I wanted to thank you for the amazing help throughout the case. Without your help I don't know what would have happened. J.C.

I would also like to thank you very much for handling my case. I couldn't have asked for a more sincere attorney. You made me very comfortable in a very hard time of my life. It's nice to know that there are attorneys who care about their client's feelings as well as the case. I am so glad it is finally over and I can go on now. C.B.
Contact Us
Clague A. Van Slyke III

2401 East Speedway Boulevard
Tucson, Arizona 85719
(520) 325-8660